Don't we all love to see this sight?

Last Sunday I ordered four 1GB RAM chips to replace my two 512MB chips. They arrived yesterday and I installed them this morning. Since you are reading this post, it was obviously successful but not without a lot of frustration.

txrad vacuumed out the cat hair which was clogging my fan's intake.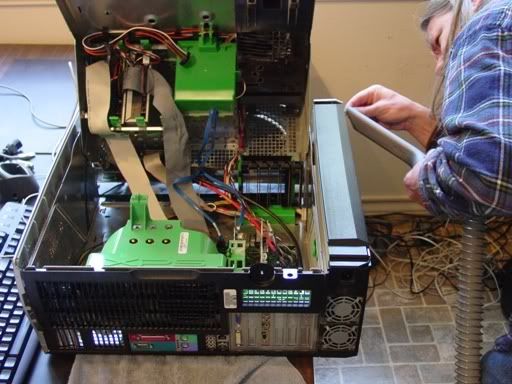 These are my four new chips. I haven't noticed much difference yet but I really haven't started multi-tasking yet.
My plans were to take my two old chips and install them in txrad's computer since he had the same setup I did: two 512MB chips.
I got them installed and when I turned on his PC it started whirring like a jet engine. After a message appeared on the monitor indicating that new memory had been installed the screen went black and never recovered.
I rebooted. This time there were a series of strange beeps but the screen stayed black.
I popped open the case and reloaded the chips but in different slots. Again, no success. I rebooted again and got a message in white text on black background -- something along the lines of 128MB BIOS something. Something else I can't remember, and that was it. That just stayed on the screen several minutes.
So I popped open the case yet again, removed two of the chips leaving him with his original 1MB RAM and everything is fine.
The only thing I can figure out is the chips are not compatible even though they are identical as far as I can tell, aside being from different manufacturers.
Has anyone ever opened a desktop case without having some amount of blood spilled?
It's minor -- scraped a tiny bit of skin off my knuckle. It could have been worse.
Maybe I should have waited until my caffeine buzz wore off before starting this project.