Doing a post solely about the journey to San Diego and the layover in Las Vegas was not my intent, but after I started writing this I realized it needed to be part 4 1/2 of the series.


Even as I was heading out of Denver driving a big U-Haul and towing a piece of crap VW Bug on my way to a new life in San Diego with KD and her cat, I think I must have known I was going to be just about 3 hours from Los Angeles, the city where I wanted to live after leaving London. But I'm not sure I was thinking San Diego was just a short pit-stop on the way to Hollywood. Knowing me, I probably was pondering such a possibility.
Change is always exciting and I was just happy to be leaving Denver behind. KD and I were eager to get this labor-intensive move behind us and spend some time in Vegas. I hadn't been there since I was 14 with my parents and we set up camp in our motor home behind the Circus Circus. Back in those days I think they actually had an RV park behind the hotel.
Driving a big U-Haul into Vegas and parking at the Frontier Hotel & Casino brought back some memories. That was the quick in & out portion of the trip. The real Vegas party would be on the 2nd trip as this move actually involved two round-trips between Denver and San Diego. Once in a hurry with the U-Haul, and a more leisurely paced trip in our separate vehicles, all in the span of a week or so, not counting the lengthy Vegas layover which was to be our treat after the moving frenzy.
The long drive in the U-Haul was fairly uneventful itself aside from one painful incident. It's never a good ideal to allow a cat out of his carrier while driving. KD decided to let her normally docile feline out to roam around the cabin of the truck. The cat kicked over his water bowl and went on a wild clawing frenzy. I was the lucky recipient of the claw action. I'm quite surprised I didn't wreck the U-Haul. We had to pull over at a store and get me some medication because I was actually having chills from the scratches.
While returning the empty U-Haul back to Denver, we pulled into a cheap motel after a long 14-hour drive. I was instructed to park the U-Haul as close to the back side of the motel as I could because the parking lot was full. I did what I was told. I was tired, it was dark and I just didn't notice the overhead concrete walkway on the 2nd floor of the motel. This resulted in a nice sized puncture near the roof of the U-Haul and probably startled a few sleeping motel guests in nearby rooms.
Once we got the U-Haul returned and settled the insurance claim on the damage, we got in our respective vehicles and headed southwest again and looking forward to several days of rest and Sin City relaxation in a lovely room in the new wing of the Frontier overlooking the construction site of a new pool area. Ironically, all of that was demolished awhile back to make room for a new resort.
KD and konagod on the balcony of our room at the Frontier Hotel & Casino
This was my first time in Vegas without my parents and of legal age. KD had been filling my head with enticing ideas like free cocktails while playing slots. What I was unprepared for were some of the other interesting perks to make gambling more fun and addictive, like the slot club cards which were a form of frequent gambler rewards. You insert the card into the slot machine and start playing. After so many plays you earn points and continue. Twenty plays might earn you 20 points. But if you stopped at 18 plays you didn't earn points for that session. Clever way to keep you playing. And needless to say, the dollar slots would earn you points faster than the same amount of money spent on nickel and quarter slots.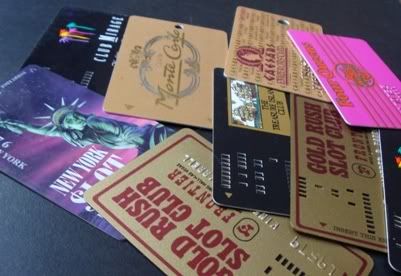 You'll notice I had two cards from the Frontier. Why not? I have two hands and two arms both of which can feed the slots simultaneously!
I also discovered a nifty trick -- a bug in the system if you wish -- in which I could accumulate points faster and for less outlay of cash. If the last person playing the slot had walked away after their 15th play, I could insert my card and only play 5 times to get the next round of points. (This "bug" had been fixed by the time I visited Vegas a few months later.)
This became my new game: going from slot to slot looking for easy points. Hitting an occasional small jackpot was just the icing on the cake.
It wasn't just slot club cards getting a workout on this trip. We kept the "cocktail wenches" as KD referred to them, quite busy supplying us with Bloody Marys and Cuba Libres and we would slow down on feeding the one-armed bandits if we knew it was time to move on and were simply waiting on the next round of drinks.
In addition to my slot club card staying quite warm, my credit cards were being fed into ATMs for generous cash advances to keep this frenzy going. I was like an unsupervised child in a toy store, having a vacation the likes of which I'd never experienced. Unsupervised and intoxicated for several days. Think
Fear and Loathing in Las Vegas
, only without the other drugs. We might start gambling at 10 AM and, after losing track of time, would decide it was time to "hit a new casino." Upon exiting this casino I was shocked to see it was dark outside already. As in evening!
Time to find another cocktail -- a shrimp cocktail for 99-cents -- and then resume the search for the loosest slots on the strip. The cheap shrimp cocktails were usually to be found down on the sleazy end of the strip, in the Circus Circus area and this always necessitated swinging through
Slots-A-Fun
for a frozen daiquiri and some quick slot action.
I never needed an excuse to "detour through casino."

We stumbled around like this for days, carrying our cocktails from casino to casino, barely able to walk by nightfall. I'm speculating we were there from a Sunday through Thursday when the rates were cheap at the hotels. By the time we packed up and left for San Diego I had accumulated enough points on my Frontier slot club card for a "free" night or two with a room upgrade. And boy, did I work hard to earn it. Best of all, it only cost me about $3,000 on credit. You gotta love Vegas!
KD had never been to the Grand Canyon so we made one detour which wasn't "through a casino" and it was the better deal financially. For some reason I only had black & white film in my camera at the time, but it makes the photos seem just a bit more surreal.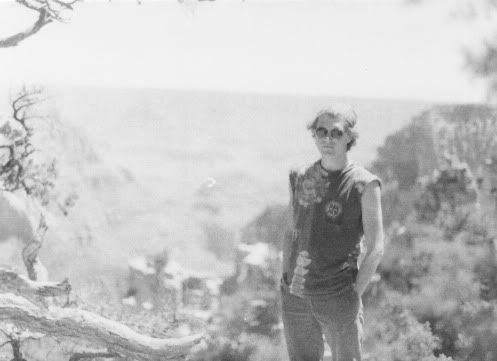 konagod at the Grand Canyon looking rather Bohemian... a young James McMurtry perhaps.
KD looking rather Janis Joplinesque.

Yes, the desert can be windy.

I was having such a blast on this trip with my new best friend, and obviously having no clue as to what would transpire in the coming few weeks as we settled down in San Diego.