Yesterday on my other blog I posted about my upcoming job loss and how my preference would be to sell everything and move to Mexico -- living cheap.

In 1972 my dad took us (me and my cousin) on a road trip in the RV down to Mexico City. Along the way we encountered some incredible moments. This is one. I have no idea where we were but I could probably get a rough idea by consulting my Atlas. I remember the bulk of the route we took and I could probably determine from mountains and rivers where this photo was taken. It's an incredibly beautiful place and I wish I could go back there.



Notice the two gringos in the river at the far left of the shot. That's me and my cousin. I was having so much fun I never noticed my mother having her picture taken with these cute boys -- the reason we're having to build a 700 mile wall along our border, because we have to keep them out. They steal our jobs and shit like that. And they have brown skin. That's just trouble.
Here we were as we crossed the Tropic of Cancer. That's me in the sombrero. I was trying very hard to blend in with the locals! LOL!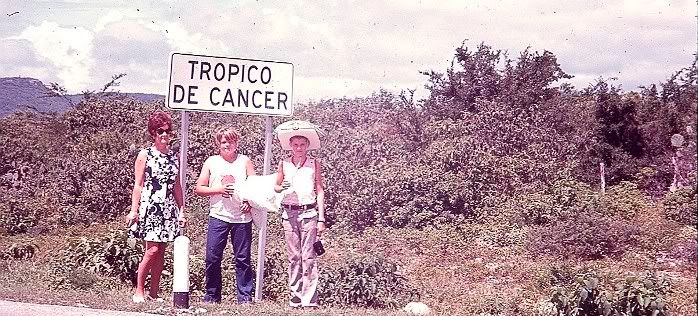 Anyhow, I think you get my point.