I got back in a routine today that I haven't done in a year. When I had my own business at home, I'd go out on business & personal errands at lunch. I had a very systematic plan which involved lunch at Schlotzskys Deli because it was on my way to the credit union, and Central Market, and/or the liquor store. (Who am I kidding? The liquor store was never an "or" proposition.)

There were enough leftovers in the house today for one serving, so I gracefully allowed txrad access to those while I went out.

Seriously, I just now looked at the photos I took today with my RAZR and I am having the utmost respect for people who do photo blogs. Either I'm in a hurry, or I can't handle the mobile camera. Some of the pictures were atrocious, most were blurry, and few incomprehensible.

My first stop was Schlotzskys. It was weird not seeing Sheldon sitting directly in front of me, but it did allow me to gaze about the place observing other people. These two women caught my eye. I swear they had to be sisters, and I'm even thinking maybe they were twins. It's hard for you to tell from this horrid photo. And I have NO idea why it turned out smaller than the rest. I made no adjustments. Jesus.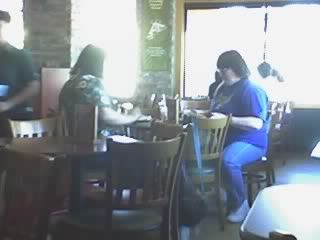 They were of similar size and physical characteristics (I know that's not a requirement of twins so bear with me), they dressed similarly, then carried similar if not identical handbags, their glasses were very similar, they ordered the same thing to eat, and as they were both walking to the table, they were both spilling a bit of their drinks on the floor. I vote twins.
The photo I took at the credit union was so horrid I can't even use it. Which basically blows the joke I was going to make about Diebold.
In the same area, walking distance actually, is Central Market. But I couldn't exactly leave my car parked in the drive-thru at the credit union while buying groceries so I had to drive a few hundred feet. They had nice flowers, if only the photo wasn't so shitty. And I can't even show you the photo of the gigantic portobello mushrooms.
On the way home, traffic was much lighter than it was during the holidays.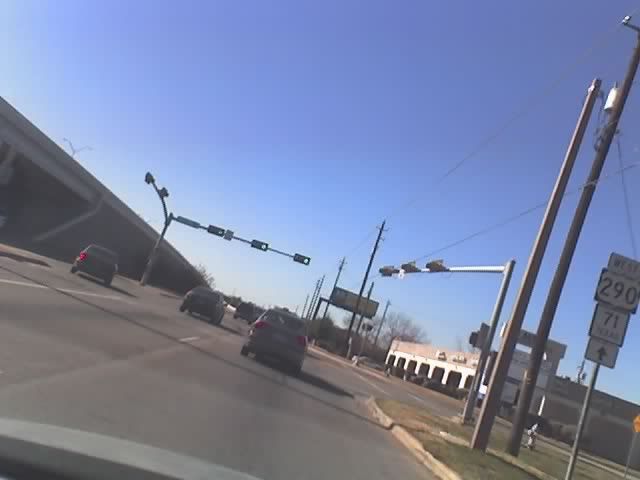 I made one last stop at the convenience store near our house to purchase some unhealthy unmentionables, and had to get a shot of the newspaper headlines.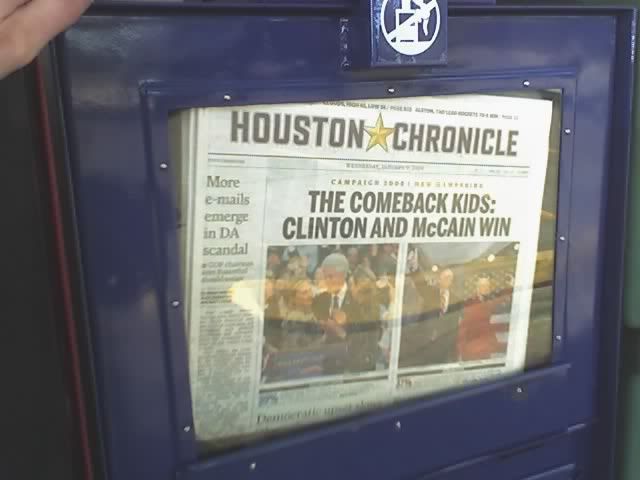 I didn't really need to buy much today. A tomato, the portobellos, some beer, and I ground some coffee beans at the store. I haven't done that in awhile, and I forgot how the aroma of freshly-ground coffee can fill the car on the way home. I felt like I was IN a coffee shop. Mmmmmm, wonderful.
The beers I purchased were all locally brewed. Some of my favorites.
I really need to learn to use the camera phone better or else take my real camera, which of course makes it really difficult to get discreet shots of people eating in restaurants. I'll try and do better. And yes, that run cake behind the beer is the same fucking cake that's been sitting there for about 3 weeks. I need to clean house. Tell me about it.
By the way, is this font color obnoxious? Do you prefer the softer creamier yellow that I found a bit harder to read?