Santa Fe, along with the Southwest in general, is one of my favorite places on earth to visit. Fortunately, I don't go there very often since I have a rather nasty habit of procuring native American pottery.

Back around 2000 I had to spend a week in Santa Fe training for a job. My boss just happened to live there. I splurged on this lovely piece. I can't imagine the amount of meticulous work required to produce something of such beauty.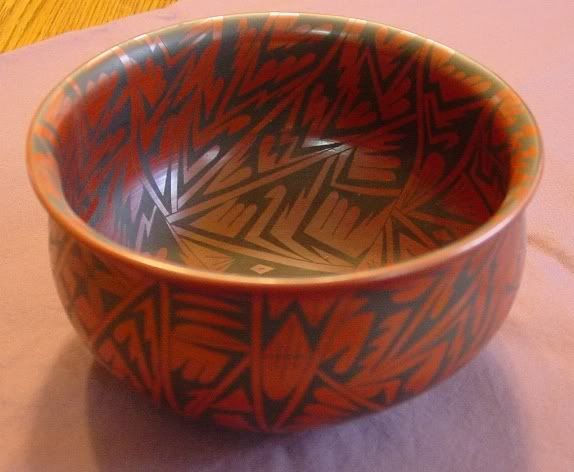 What's amazing is the level of detail on the inside as well as the outside of the bowl.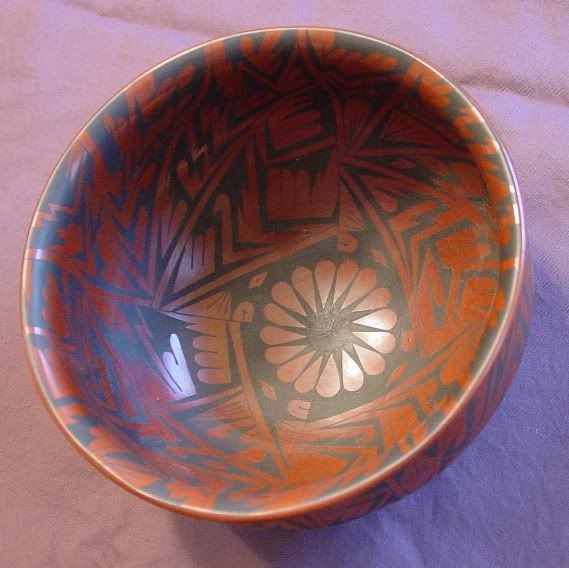 Rather than risk damage in my possession while traveling I opted to have it shipped back to Austin. I also grabbed this smaller bowl with a fish motif which I adore.
A year or so before we moved to Austin, txrad and I had a short weekend trip to Santa Fe which was when I decided to start buying pieces I really loved. This one makes me think of a UFO and was done by a student in training. If I recall he was about 17 and lived at the Acoma Pueblo. It has an imperfection or two but I don't mind. Consequently I got it for a fraction of the price of the other two.
As with the other pieces, this one is signed on the bottom and dated '96 which was probably the year we visited.
My absolute favorites are the seed pots with the tiny little holes in the top and unfortunately I haven't yet added one of those to my collection. Here's a sample I just found on the internet. The artist is Debra Duwyenie, and this pot is only 2 1/2" high by 3 1/4" wide and priced at $650. They don't come cheap, but next time I'm in that area, I am definitely going to allow one to find me.
Since I'm posting about pottery, I'll include a couple of others unrelated to the native American pottery. This pitcher has an interesting story behind it. A few years ago txrad and I were drinking tequila and watching QVC -- the shopping channel.
They were running a segment on this fine pottery from Poland -- all hand painted. The stuff was selling fast. I knew my mother would love the pitcher and since blue is her favorite color, I decided to order one for her birthday. Yes, I was just drunk enough to order something from QVC.
When I called they had just sold out of everything but they put me on a list for any possible cancellations. Several months passed and I assumed I was out of luck but one day the package arrived. I was so impressed with it I decided to keep it and all my mother got was a picture of the pitcher. How's that for a son?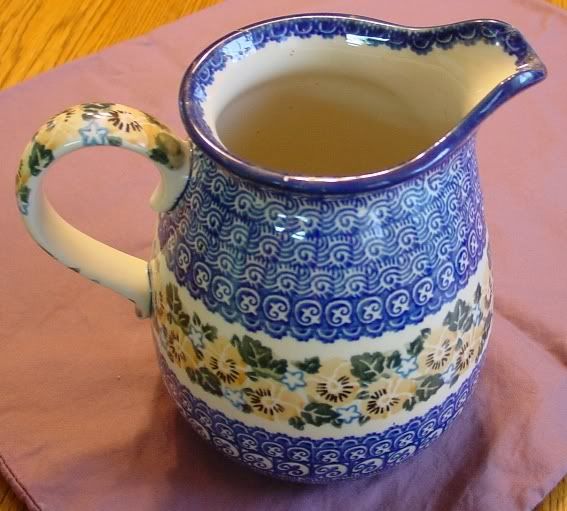 On a recent trip back to Arkansas my mother gave me this bowl which I'm pretty sure belonged to her mother so I'm confident it's at least 70 years old. I don't use it but I certainly could. It does have a small chip on the rim (cropped from this shot) and I remember my mother using it to mix biscuit batter and probably a lot of other things when I was a child. I have plenty of mixing bowls and would rather keep this one safe.
It is stamped on the bottom: "National Brotherhood - Operative Potters" and "Universal, Cambridge, O." I did a bit of internet research and the Universal company was started in that Ohio town in 1934 and closed in 1960.