Yesterday txrad received his get-well assortment of truffles from the incomparable Minstrel Boy. txrad has a smile on his face.


I wanted to share a couple with
Seventh Sister
. She was running a bit low on chocolate. I told her I'd meet her at the Farmer's Market between 10 and 10:30 this morning to conduct the sinister hand-off. txrad suprised me by saying he wanted to take a shower and come along for the ride.
We got there right at 10:30 after I overshot the correct freeway exit and had to loop around for a 2nd try.
I got txrad to pose for a shot so I could email it to his family and they'd know for sure he's alive and well.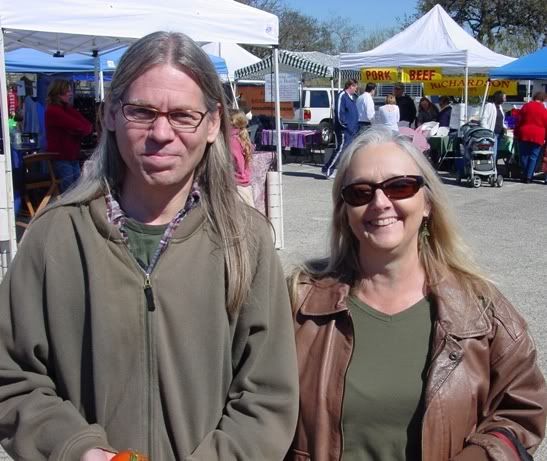 That picture came out overexposed but it was the better one of the two in my opinion.
So much for my opinion; txrad liked the other picture so I have replaced the one originally posted here. We must keep him happy!
In exchange for two truffles, we got two lovely tomatoes from SS which will be put to good use very soon.
txrad's speech is improving each day and he's now completing sentences instead of words, and I can usually understand him which is a vast improvement from just two days ago. And he hasn't even started speech therapy yet. I'm hoping we can get a session scheduled either Monday or Tuesday.