Today was filled with some unexpected surprises. There was a very heavy box left in our garage by the mail carrier. A friend I've known since high school, Elizabeth in Little Rock (also a cat person; I've used some of her kitties in my Friday Pussy Blog), sent me this. It's called a "Cat Stack" and as you can see, there are indeed three of them.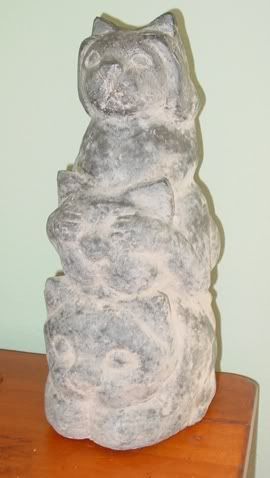 There was also a smaller and lighter box left in the mail box from John & Jerry, a very artistic couple also from Little Rock. I've known them since the mid-80s. They sent me something which appeared to be personalized. Of course I could tell from the stains on the case this was something quite old. There were two books inside the case.
Both of them are cookbooks and contain quite a few very simple recipes by Winifrede Repp Railey. As you can see, the copyright date is 1935 which makes them 73 years old.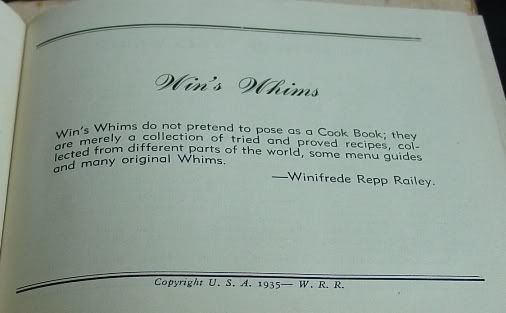 One of the first recipes is for "Blue Berry Muffins" and it's almost identical to the recipe I current use with one notable exception: I use 1/2 cup of sugar and this recipe calls for one TABLESPOON of sugar. I guess they were either health-conscious back in 1935 or sugar was EXPENSIVE!
Quite a few of the recipes are vegetarian and I will have to try a few of them. This one is not:
RABBIT PARISIEN



Disjoint the rabbit and wash. Into a kettle place cubes of salt pork and fry to a golden brown. Brown the rabbit in the grease, then add enough water to stew it. Salt, pepper and cayenne. One half hour before the rabbit is done, add 1/2 pound of fresh mushrooms, peeled and cut in halves. Just before serving add sliced green olives and thicken the gravy a little. Mashed potatoes and buttered Brussels sprouts make this dinner complete.