I just couldn't take it any longer. The tile around the tub/shower combo stops about a foot from the ceiling and that space had been painted. It was growing mold and mildew. I don't know who had the bright idea NOT to tile up to the ceiling. I bleached it and put two coats of primer on it last week. You can see a reflection in the mirror of a bit of the tile around that area in the top photo.


Dull drab bathroom be gone.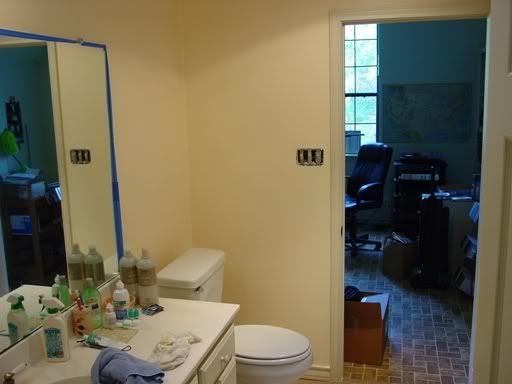 This project only required about three hours. There will probably be a couple of touch-ups to do tomorrow. And I will be replacing the hideous brass hardware: that outdated light fixture, the faucet, and towel bar will all be replaced with something in a brushed nickel finish.
And of course I still must paint all the trim. I'm figuring that could be another 2 hours.