Back in September when I was doing all the painting I decided to paint the walk-in closet in the master bedroom. I'm not sure why since you can't really see the paint with all the clothes in there. I started painting and ran out of paint so I just left it unfinished.

This has been nagging at me for months. Today I decided to finish it. Well, I did more than finish it. I started over. I found a can of paint from a few years back which I'd used to paint the trim in the kitchen. It was about 3/4 full and I knew it would be enough for this task and I wouldn't need to open the new can I bought a few weeks ago in the same color I started painting.

The old can is more creamy white than the stark white I had starting using in the closet. And I actually like it better.

The first order of business was getting everything out of the closet. Shit, we have a lot of clothes. This is ridiculous.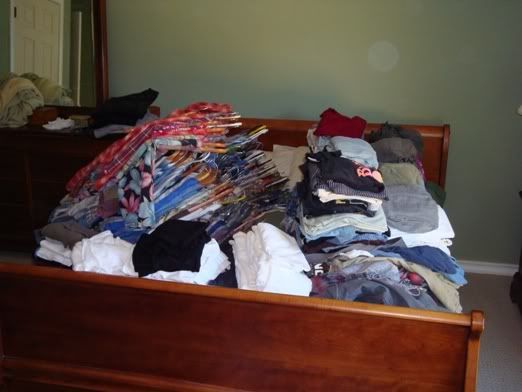 The closet looks enormous once all the shit is out of it. You can clearly see where I started painting and stopped last year.
The other side of the closet...
I started this project about 10:30 this morning and I used a roller on the walls which went pretty quickly. I decided I'd probably be done with this chore by noon-ish. I guess I underestimated the time it would take to do all the trim work, the shelves, the braces which hold the shelves, etc.
But it turned out quite nice.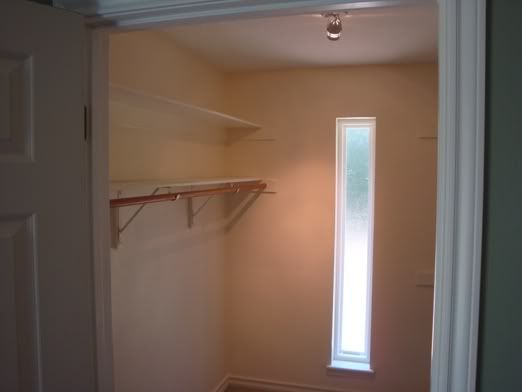 It's not a perfect job, but it's a friggin' closet! I did put in a lot of attention to details, including painting the underside of the shelves. I like to be good and thorough. No shoddy work here. All the shelves are painted except this lower shelf you see in the photo below. It was never painted when we moved in so I just left it.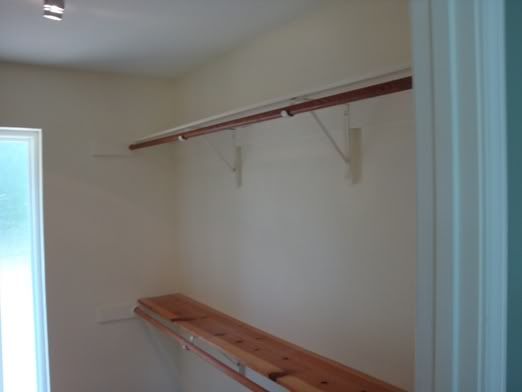 I finished about 2:45 and then was wondering what to do for lunch since I hadn't eaten all day. I was going to either run get a Subway sandwich or go to the supermarket for a frozen entree. And I really wasn't gung-ho about either option.
I checked the refrigerator and lo and behold there was actually a meal waiting to happen. Some beans that txrad made a few days ago as well as the remains of his potato salad which I'm surprised was still edible, and I found a cornbread muffin in there along with a thick slice of homegrown tomato.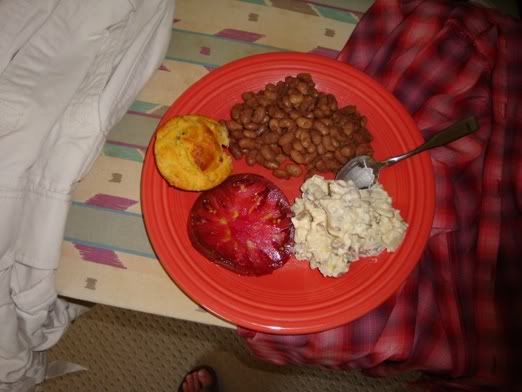 Damn. Them is good eats.