Well, what else am I supposed to do while txrad is away and I'm home alone. I get stir crazy and I need to get out and do something. Friday night turned out OK. Sure, I had the scorpion sting and missed Loretta Lynn but I did go to the pool party at Lonnie's house. And apparently it was just what I needed: lounging around in the pool, relaxing, and enjoying the company of friends.

I sometimes forget I even have friends because I'm such a hermit. It's good to get out occasionally.


It got dark much too soon and the camera in my RAZR phone isn't quite up to the task sometimes. This one isn't great but I'll have fond memories of a fun night. Left to right: Thomas, his son Dylan, his wife Betsy, Eric behind Betsy and Lonnie. None of them are looking at me because Carol was taking a picture with a GOOD camera.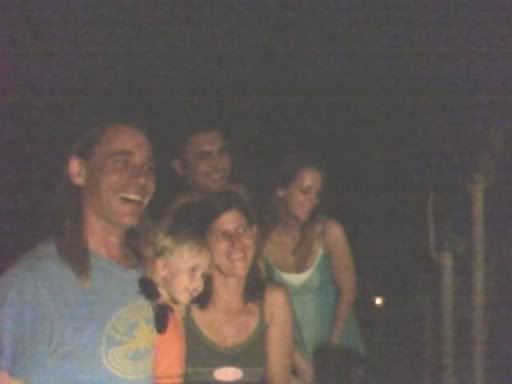 I knew Betsy briefly when I first moved here in 1997. We both worked at the same ad agency. Lonnie and Carol are in the next shot. I worked with Lonnie last year although she worked at the same agency as Betsy and I, but a bit earlier. I believe she had left when I came here although I met her on a visit around 1995 or 1996.
Carol and I worked at the same agency in Santa Monica way back around 1991. She moved to Austin before txrad and I did. She's the one responsible for alerting me to the opening in January 1997 at the agency I worked last year, and started at again in May. Carol is my "supervisor!" A night out with "the boss."
Lonnie and Carol are both from the same small town in Iowa where another ad agency happens to be located. Lonnie and I both worked for that one although at different time periods. Besty lived there also.
It's quite odd because I feel like I've known Lonnie most of my life and we really only got to know each other last year. Advertising is a strange profession. But I digress. What was the title of this post???
Oh! Let's go SHOPPING!
I didn't need to last night but today I was going stir-crazy. I went to Kohl's and spotted a white pair of cargo shorts I liked but didn't buy them. I went on to a Goodwill store to check out what they had. Lucky me. I found these two shirts. I love the colors of the one on the left. And the blue one is really nice and 100% linen which is one of my favorite fabrics. The best part is that I got both shirts for $10.80 so feel free to congratulate me on my savvy shopping capabilities.
As for those white cargo shorts, I went back to Kohl's and bought them. I'm not real fond of white clothing but it is summer and they'll be cool. And they make my legs look tan! My legs are only a shade darker than the shorts! I think I'm probably going to dye them at some point -- customized cargo shorts for konagod. A dark plum purple with yellow draw strings sounds about right.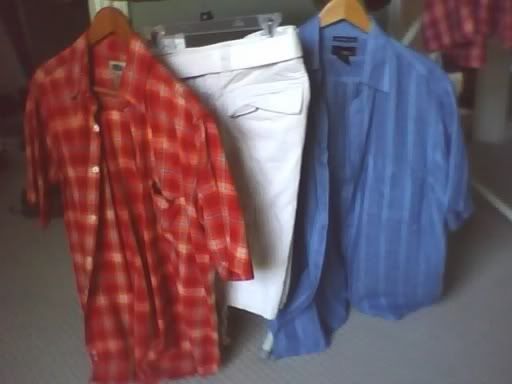 The gift cards I'm carrying around in my wallet have been burning a hole in it. I still had over $160 on the Wal-Mart gift card, and since I really detest going to Wal-Mart I decided this would be a good time to burn it up. Especially since txrad has the only digital camera on his trip to North Dakota.
I picked out this ultra-thin and lightweight camera. It shoots 8.1 megapixels which far exceeds the 3.3 or whatever is on our current camera -- and ours is so large and bulky I really feel self-conscious when I take it in public to shoot pictures. This was $249.84 but I also had a $50 AT&T debit card in my wallet which expires at the end of this month, and I'll be damned if I'm going to give THEM my cell phone rebate money. So in essence, I got this camera for very little.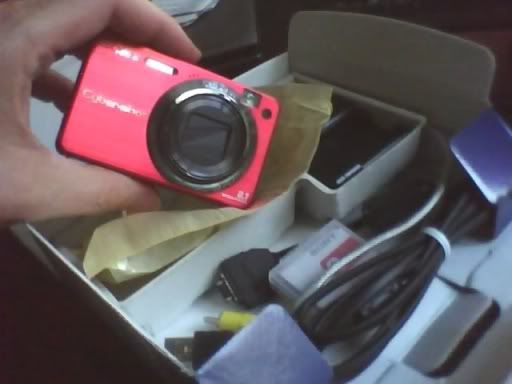 On my way out, I happened to think about the memory stick. 8.1 megapixels is a lot more than 3.3 and I wasn't even sure if my existing memory stick would work, so I went to check out the selection. As it turns out, there's a new stick since I bought my old camera: the memory stick pro duo which is smaller than my existing stick. I got the 1 GB stick for another $34. They had a 2 GB stick for twice the price, but since this one holds about 300 photos, it should suffice. I don't think I've ever downloaded more than 30 or 40 at a time to my PC.
Won't txrad be surprised when he gets home? Yee haa! I've been having FUN!
Being one who likes to get maximum benefit from his purchases, I fashioned an ankle bracelet from the twine which was used to tie the tag to my cargo shorts. I strung two pieces of hematite to it to ward off the evil scorpions and other demons. Hey, it can't hurt.