Leaving txrad behind in San Diego while I moved north to Los Angeles with KD was a strange sensation. My agenda was to find a job as soon as possible and then get my own apartment so txrad could quit his job and join me.
KD had already signed a lease on a one-bedroom apartment in Hollywood which had a view from the balcony of an apartment building where txrad and I would later live. KD took the bedroom and I set up my sleeping area with a futon in the living room.
The future apartment.

I wasted no time in starting my job search. Still blessed with an extravagant streak when it comes to spending money on things I didn't really need, I went to Montgomery Ward and paid $400 for a thermal paper fax machine. In 1991 that was quite a deal. Being able to utter the phrase, "I'll fax you," was the height of trendy.
Five days at a time was about as long as I could stand being away from txrad so when Friday rolled around, the job hunting stopped and I hit the road for San Diego. One time I took the train from LA to San Diego and then boarded another train which took me to the suburb east of San Diego where txrad picked me up. These weekend trips didn't make KD very happy since her expectation from this move to LA was that I would forget about txrad.
January rolled into February and the job prospects weren't looking very good. I knew I couldn't just take any part-time fun job like I'd done in previous cities. This had to be for real, and with a salary that would allow me to rent an apartment and actually survive. I really wanted a job in the TV or film industry and obviously the competition was fierce.
I only recall having one interview for an accounting-related position on a movie project which was going to involve being on location in Europe for months. It sounded exciting but that didn't exactly fit my plans.
By the time March arrived I was feeling desperate. I swallowed my pride and faxed my resume to a company in Santa Monica which had a data entry position open. Data entry was always something I could do since I had so much experience but I was not excited at the prospect of falling back into that boring rut.
The phone rang a day or so later and it was a woman calling from that company wanting to set up an interview. She didn't exactly describe the nature of the business very well because I was under the impression I was going to interview at a firm which produced a magazine similar to TV Guide. I got myself dressed up and drove to Santa Monica to a building in what was then a rather shabby area of town, a windowless warehouse actually, next to abandoned railroad tracks.
The interview went well and I learned that the company was in fact an advertising agency specializing in the placement of infomercials on television stations across the US. A day or so after the interview I received a call offering me the position and I started on March 13 at a salary around $18,000. It wasn't much but I knew I could afford an apartment and be united with txrad again. However, he would need a job also for us to make ends meet.
I had my heart set on that apartment building I could see from KD's apartment. It looked so glamorous and was a new construction. I believe the rent was probably around $800 a month which would eat up more than half my income. It was a small one-bedroom but comfortable. And to still be living in Hollywood was a perk. txrad gave his 2-weeks' notice at Wendy's and moved up to join me just before my birthday in mid-April.
txrad on the rooftop deck of our first Hollywood apartment. That's the famed Hollywood sign on the hill in the upper right.

On one level I was in a bit of shock that I was in love, my boyfriend actually quit a job and moved to a new city to be with me, and that I was working to provide for us. I might not have realized it immediately, but I was finally growing up at the age of 31.
Money was tight. txrad was not having any luck finding work and I think he must have been severely depressed for months. I really wanted to find something to do besides data entry work but at least I had a job and it was a fun and casual environment. My boss was impressed with my work and my speed, and other people were taking notice. I had only been in that position a few months when I was given a huge promotion opportunity. The woman who managed the tape traffic department was leaving and someone had the good sense to realize I would be a perfect fit for the position.
I would be responsible for making sure video tapes got to the stations prior to the airdates and it involved working with various tape duplication facilities and coordinating the shipments. I took the position which came with a generous increase in pay and suddenly found myself in love with my job. At the start of 1992 they had a need to hire an office assistant/receptionist. I suggested txrad. He interviewed and was hired. Life suddenly seemed wonderful in a two-income household.
Several vegetarians worked at the agency and this was when I became one. I also quit smoking and quit drinking any alcohol. That would last a grand total of seven years.
After things started settling down and we seemed to have security, we decided it was time to find a better apartment with a bit more space, one not quite so new with a bit of old Los Angeles character. We eventually moved into a 1950s-era building just off Wilshire Boulevard and west of Crenshaw. No longer were we walking distance from Mann's Chinese Theatre but that was fine. Hollywood was loud and dirty and our apartment was more serene with two bedrooms, two bathrooms, a larger kitchen, and a balcony overlooking a courtyard. And we could walk to Melrose!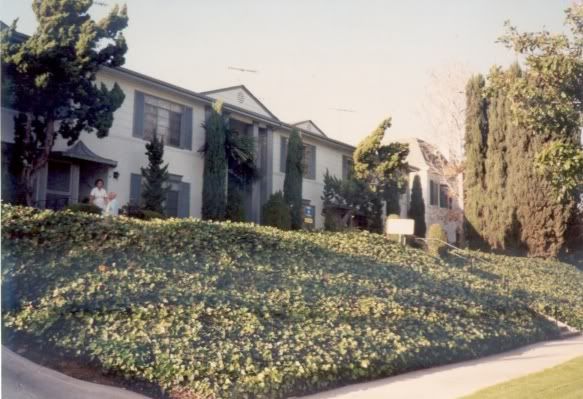 817 South Windsor

Our balcony from the courtyard.

We lived in that apartment longer than I had ever lived in any one place. And I had one unforgettable experience there which happened at 4:30 AM on January 17, 1994. The Northridge quake was a whopper. I bolted out of bed and braced myself in the bedroom doorway and the building rocked back and forth. I remember shouting, "this is the big one."
I saw a burst of bright light as a power transformer exploded and then we were in pitch black darkness. I thought the apartment building was going to actually flip over. Then it stopped. It was dark and quiet, except for the sound of the wind chimes hanging in the kitchen which I had bought for txrad as a birthday gift the prior year, and the sound of water dripping on the carpet in the living room. We had an aquarium and I imagined the tank had been knocked to the floor and the fish were flopping on the carpet.
txrad grabbed a flashlight and fortunately the aquarium was intact and still on the table. Water had sloshed out though. Luckily there was no damage to the apartment at all. Then we had an aftershock, and that was followed by many more. This went on for days and weeks although infrequently and much smaller.
This event was to change my personality in a way which still holds true today: I am a morning person instead of a night person as a result of that quake. We learned of the collapse of Interstate 10 which was our route to work in Santa Monica and realized we would be driving streets to reach Santa Monica for months to come. This meant getting up much earlier than usual in an effort to beat the worst traffic.
My work situation continued to improve. I got more promotions and salary increases and was managing two departments as well as working with the IT department to implement programming improvements which enabled us to get more work done and faster while automating as many functions as possible.
In the following year we were discussing something which seemed unthinkable just four years earlier. I wanted to buy a house. We really didn't have any savings built up for any kind of down-payment. We could have been saving money but I was wanting to show txrad the world. Within a six-month period we had taken two European vacations -- once to London in November, and then to Paris the following April for my birthday, with that January earthquake wedged between those trips.
Even before we were financially more comfortable, I had already splurged on a trip to Singapore after finding some really cheap tickets, and we really didn't have enough funds for a decent hotel room, opting instead for a YMCA.
We vowed to start saving money and by 1996 we were looking at homes even though I didn't see how it would be possible since we only had a fraction of what would be required for 20% down. I was finally bold enough to get in touch with a realtor who explained that it would be possible to finance the down-payment separately. How clever!
The most affordable homes at the time were in the San Fernando Valley. We were shown a 5-bedroom ranch-style home between Woodland Hills and Chatsworth in a neighborhood of rolling hills. Although it sounds excessive and we certainly didn't need 5 bedrooms, we felt good about the house. The kitchen was huge although in need of updating, and the backyard was quite large. So we made an offer and purchased the house for $175,000. And now we would be 23 miles from work. This necessitated a continuation of the early morning commute to avoid heavy traffic.
Our first home together, as it appeared on move-in day.

One of our co-workers lived only a couple of miles from this house. He is now my boss at my current agency.
There's something about living in a house and having a desire for pets. We discussed getting a cat although txrad swears it was all my idea. It wasn't long until we had adopted Samantha from a shelter.
One of the first lessons I learned about owning a home is one that I'm still learning today. Ideas for improvements never cease and you can't do everything at once! But those kitchen cabinets were atrocious and needed to be painted. We also had the exterior of the house painted which was a big improvement.
The kitchen had an electric cooktop and we had really wanted a gas cooktop. The fireplace in the den was gas so it was no big deal to call someone and have them install a gas line into the kitchen. In 1997 I bought a really nice gas cooktop as well as a new oven. I honestly can't remember if we ever really got to use either of those appliances because 1997 was the year in which another major event would happen: I was offered a position with a similar advertising agency in Austin, Texas.
We had only been in our home about a year and the dust hadn't even settled yet. But the commute was getting on my nerves, the LA traffic in general was tiresome, and my attitude about the city itself was undergoing a radical change. Reality was settling in. I was in a career I enjoyed which had nothing to do with why I thought I had wanted to live in LA -- to work in the film industry.
All the signs were pointing to another move. The agency in Austin was started by the same person who started the one in Santa Monica. The two agencies were close and shared systems and processes, and some employees had previously left and moved to work in the Austin agency. I had flown to Austin a few weeks earlier to do some consulting work for them.
The head of the agency called me up and asked me if I'd be interested in moving there. He offered me even more money than I was making in LA, despite a significantly lower cost of living in Austin, to do essentially the same work. The idea of being able to buy a better home, closer to work, perhaps even on some acreage where we could garden, was all too tempting.
I contacted a realtor in LA who sized up our house and provided a rough figure of what it might sell for, which was a big concern. I was afraid we might have to take a loss. Meanwhile, txrad and I flew to Austin over a weekend and had a realtor here showing us homes. We must have looked at 8 or 10 over the weekend and they all had pros and cons. If the lots were huge -- 5 or 10 acres -- the houses left something to be desired. Fortunately, we found a house that fit our style. I had a clear picture in my mind what I wanted: a home with rock siding, specifically the white limestone so common around Austin, relatively new, and definitely a short and easy drive to work. The compromise was that the home we selected was on just one acre as opposed to several.
Having made an offer on the house, we flew back to LA with the hope that ours would sell quickly. Things all came together with remarkable ease. A large extended family made an offer on our 5-bedroom home, and we sold it for around $190,000 which was enough to cover the realtor fees and we didn't lose a dime except for what we spent on appliances.
My new employer was paying all moving expenses including hiring movers to ship our stuff and the car. I worked on a Friday at the old job, the movers had collected all our stuff, and the car was in transit. That night we left Samantha alone in the house and we checked into a nearby hotel for the night. The next morning we drove in our rental car to pick up a slightly sedated Samantha, and left our first home for the last time.
We were off to the airport for a flight to Austin. I would be starting my new job on Monday. However, we would not be closing on our next home for about 2 more weeks. A corporate apartment would be our home in the interim.
txrad and konagod: November 1991, somewhere in the environs of Los Angeles.