I will never forget the stress in the final days and hours as we prepared ourselves for the move from Los Angeles to Austin. Samantha had an ear infection and we were concerned about how she might be affected by the flight. The vet had given her a clean health report in case the airline needed it.

I had fretted for weeks about how to get my goldfish transported. A friend of ours at work had given us one of the goldfish not long after txrad started working at the agency. After the Northridge earthquake it slowly began losing the gold color and within weeks or months was completely white.

The evening before our departure I came to the conclusion that the logical thing to do was to take the fish to a pet store and donate it. txrad actually had to do the deed as I sat in the car sobbing. I know it was just a fish but I was attached to it.

Our flight from Los Angeles to Austin was non-stop which was a definite plus with a cat on the trip although that didn't come off without a hitch either. Upon checking in at the airport and being told we could take the cat on the plane with us, we were stopped in the gate as we were boarding the plane and told that the pet carrier was too large and would have to go into cargo. I was gasping for air as they took the pet carrier from me. That 2.5 hour flight was nothing but stressful.

Upon arrival in Austin we were reunited with Samantha who was fine although possibly traumatized. We got everything in a rental car and headed out into the dark night in search of our temporary corporate apartment. After a few wrong turns we arrived after having to stop at a supermarket to pick up a cat box and litter.

This entire ordeal must have caused me to take leave of my senses because I'm sure it was the following weekend that I scheduled a get-away to Orlando to visit Epcot for the weekend. We left on a Friday and returned on Sunday. I suppose I felt like I needed a mini-vacation after all we had been through. For the record, it wasn't much fun, Epcot didn't do anything for me, and I felt guilty for leaving Samantha alone in the apartment after a stressful relocation. When we got home was when Samantha started sleeping on the bed between us.

It was only another week, probably the next Friday, when we were able to close on our house and sign our names to mountains of paperwork. Afterward, the sellers met us here at the house and gave us some tips and pointers on a few things, and suddenly we were the proud owners of a house on a one-acre lot just outside the city limits of Austin.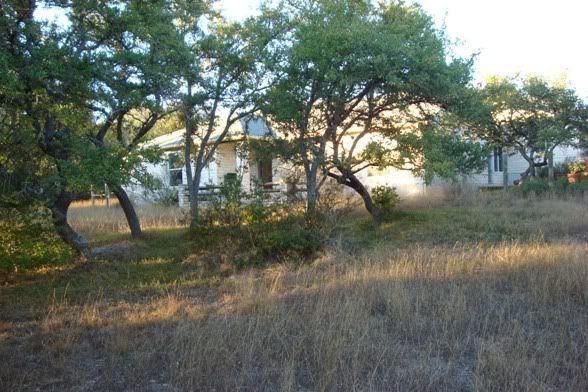 Our home, photographed December 24, 2008, just moments after completing this post.

To this day, over 11 years later, I still feel the same joy as I stand at the kitchen sink looking out at trees and a rustic street. Unfortunately, as we would soon learn, having an acre doesn't necessarily mean you can garden to your heart's content. There is only about 3 or 4 inches of soil before you hit limestone. I suppose the two pre-existing raised garden beds in the backyard should have been a clue. There are trade offs in life and this was one we had to make.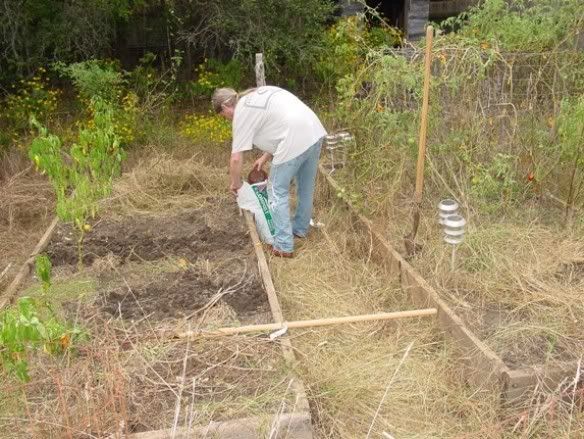 txrad working in the raised garden.

A big plus was our work situation. txrad managed to get hired at the agency a couple of weeks after we moved here. We not only had a short commute, but we were driving away from the city and therefore against any traffic heading into Austin. We also had a rather unusual work environment.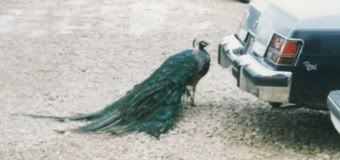 I mentioned in the LA post (part 6) that the agency here was started by the owner of the agency where we worked in Santa Monica. She was a devotee and a big financial supporter of a Hindu temple which was built a few miles outside Austin, and the advertising agency where we now worked was located on the temple grounds, complete with peacocks. Some of the devotees we knew had previously lived in LA and worked for the Santa Monica agency, then moved here after the temple was constructed. However, most of the employees were not devotees at either agency.
Since txrad and I were both vegetarians when we moved here, it was no big inconvenience for us that no meat products were allowed on the temple grounds which included the office. Other employees who were not content to bring a veggie dish for lunch had to make the 10-12 mile drive to the nearest eateries for lunch! There were occasional brave souls who attempted to defy the rules. But the devotees would routinely perform inspections of the frozen entrees in the company fridge and occasionally an item would be discovered which contained meat or chicken. It would immediately be deposited in the trash -- a tactic which struck me as odd considering there was still meat on the premises; it just wasn't going to be ingested by the person who bought it.
Business at the agency was increasing at a frenzied pace with a bright future for the first 12 months or so. Then the foundation began to quiver. It was not an earthquake. I had been in the advertising business long enough to spot early warning signs. We had too much business and the company infrastructure was not being built as fast as needed to handle the work. Things began to get sloppy. And when things get sloppy in business, especially in the accounting department, the writing is on the wall.
The mantra of any agency in the particular variety of advertising we handled was always "cash in advance" from clients. A couple of clients fell behind or suddenly ceased operations -- a very common thing in our breed of advertising. All it takes is a product that was a good idea, but is manufactured very badly, or one which results in lawsuits, etc.
One day someone discovered a huge stack of checks payable to television stations but which were never mailed. They were stashed away in the desk drawer of someone in the accounting department. One or more clients were behind and there were not enough funds in the bank to cover the checks.
This situation which had been building for a few months prior was one reason I decided to start drinking again. I'd been alcohol-free for seven years. Having left a great job in Los Angeles to move to Austin and now facing the prospect that the agency might not survive was weighing heavily on me. Not only that, we had specifically purchased our home for the proximity to this employer!
Late in 1998 plans were being made to rename the agency with new management pulled from within, and phase out the old agency name. Needless to say, the rumor mill was running rampant outside our agency as well as inside it. Stations which were owed money were not going to be paid. Surprisingly, this switch-a-roo was pulled off successfully although it not only required changing the agency name, but also involved changing the name of our "street" to make it appear as if we were a completely different agency operating at a completely different address. I was able to keep my position there as did txrad. But the excitement and drama wasn't over yet.
Well into 1999 with new management in place I began to sense that things were not going as well as they should. I took on additional responsibilities and was given a substantial cut in pay. And I learned another valuable lesson in life: Never speak ill of management via company email. Yes, dear friends and loyal readers, my email was being monitored without my knowledge by the management.
One Friday afternoon I was working on a project involving an elaborate Excel spreadsheet which I presented to management and received a big thumbs up for the work in progress. As I wanted to continue working on it over the weekend, I emailed it to my home.
On the following Monday morning in early January I was in for the shock of my life. I was met at the door as I entered and instructed not to go to my desk upstairs, to drop my bag, and go directly to the conference room where I was met with the stern faces of management. Not only was I fired and then escorted out of the building, leaving txrad to gather my personal belongings to bring home later, but I was accused of stealing company property -- i.e. the spreadsheet which I had emailed to myself on Friday.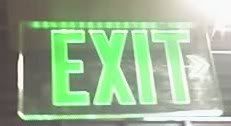 Although I was stunned, my drive home felt quite liberating. I was gone from the madness at last. A new chapter in my book was about to begin. My advertising career which I could trace back to 1991 under the same lineage had ceased to exist. It was quite odd for the next few weeks as I stayed home unemployed while txrad continued working there.
I don't even remember what was going through my mind during this time in terms of the work I was seeking. I'm sure a relocation was on the table if I got an offer from another agency in another city. In February I received a tip about an agency in another state which did utilize media buyers from their homes. I followed up on the tip and sent my resume to the media director. A couple of weeks went by with no response. The person who tipped me to this possible position suggested I follow up as the media director was quite busy. That did the trick.
This media director lived in Santa Fe, working for the Iowa-based agency. I was flown out to Albuquerque, rented a car and drove to Santa Fe for the interview and then back to Albuquerque for my Austin flight late that same day! The interview went very well and in a couple of days I was offered a position which I accepted. This necessitated me flying back to Santa Fe for a week of systems training with the media director and then the two of us would fly to Iowa over the weekend for another week of hands-on training in Iowa!
It helped that during my career I was comfortable bringing work home and had no trouble with the discipline required to actually do work at home. Although I've heard many people can't handle the isolation and discipline required, I adjusted to it immediately upon my return to Austin. However, the salary was even a tad less than the substantial pay cut I had received at the previous job.
From 2000-2003 I worked from home for this agency, leaving in 2003 because I received another job offer to work at home for a small start-up agency which involved a huge salary increase, putting me back at the level in my 1999 heyday. In addition, this job had an opportunity for txrad and he quit his position to work from home with me. That was actually a wise decision by txrad. That agency where he continued to work after I was fired was in the process of being acquired by another "player" in the industry and his job would have shifted to a location downtown. Not only that, but the entire operation shut down just weeks after the acquisition. Make a mental note of that "player" because he resurfaces later.
Again, this scenario with both of us working at home would be a short-lived euphoria before imploding in early 2005. After that I was flying solo with my own agency with only txrad at my side. Even that died a pretty quick death -- I disobeyed the "cash-in-advance" mantra and spiraled into a nasty crash at the end of 2006. I was in denial throughout the holidays from Thanksgiving until New Year's Day, 2007. On January 2, 2007 I woke up with the stark realization that I was left holding nothing but a company in name only and a ton of debt.
I'm not sure why but I have this trend of being unemployed around the beginning of the year and then rebounding quickly when I least expect it. And thus it was in 2007. Depressed and facing uncertainty, with both of us having no income, I wasn't sure what miracle could bail us out.
Then came an email in late February from none other than one of the managers from the agency which had fired me in 2000, and whose own agency had disintegrated after being acquired by that other "player." Coincidentally, she was also the one who had given us the goldfish back in Los Angeles.
She was now working for a huge traditional advertising agency downtown on an account for a major telecommunications giant (hint: it has an A, a T, and another T in the name and I'll admit that's rather a cryptic clue) and needed a media buyer. Seriously, at that agency and for an account of that stature, I didn't even think I was qualified but I agreed to interview. I had no choice. And one of the people who interviewed me was that "player" who had lost his holdings and was now the department head overseeing this large account at this large agency.

The large downtown agency with the large telecommunications giant client.

I was hired and started on January 29, 2007 in a position referred to as a temporary contract employee. I had no benefits, accrued no vacation or sick time, but it was not without perks. The pay was more than I had ever made, and there was time and a half for any hours over 40 in a week. There were LOTS of extra hours. Most months my overtime pay alone was enough to cover our mortgage!
My primary co-worker was a woman who had also worked at the same agency we worked when we moved to Austin but she had left there around the time we started. She had also worked for the Iowa agency where I worked from 2000-2003 and grew up in the same small town in Iowa where that agency was based. And yet we had never worked together until now.
2007 was shaping up as the best year of my life in terms of career. Always being mindful of how unstable things could be and the fact I was in a temporary position which might last years or only months, I never let any of this go to my head. I began saving as much of this excess money as I could. Also, in May, they had hired txrad as a media assistant, so we had two incomes again! By August I was getting the first whiff that my instincts were correct: the telecommunications giant had decided to put the agency up for review, meaning they were entertaining the possibility of moving the account elsewhere. We were all trying to keep our chins up and hope for the best, but I knew in my core we were going to lose the account to another agency.
By November it was more or less official. There were lots of layoffs in November, 2007 and txrad was one of them. My co-worker and I were to stay on until the end of December to wrap up the last of the 4th quarter media before the account would be moved to an agency in New York. She and I were laid off on December 21.
Once again I was starting a new year unemployed but I had stockpiled a significant savings and txrad and I were both eligible for unemployment compensation, so I wasn't depressed about it initially. I considered going to work for the agency which was awarded the account, but that would have necessitated a move to New York. They would not seriously consider any work-at-home employees. I love my home too much to leave it for New York!
This stretch of unemployment was longer than I expected. I'm not a firm believer in aggressively looking for work. In this industry I've never really had to; it usually finds me. But in 2008 I was getting rather concerned as January became February and February became March. April even passed without a glimmer of hope.
I had remained in contact with people at the agency in case something else came up. There were rumors and possibilities each month but always ending in another delay and uncertainty. Finally, when I was losing all hope, a position did open up there again in May, and it was a full-time permanent job with benefits which were generous. The downside was that my salary would be about half what I was making last year, and not even enough for txrad and I to meet our basic expenses, and he was still unemployed.
I had to take it. At least I would have my foot in the door again and some income is better than none at all. The job duties were quite different from what I had been doing these past few years and I was actually working harder than I ever had before (and I'll say it again: for
less
money).
Back in April, before I started the job in May, I had planned to apply back at the agency in Iowa. I really didn't want to backtrack, even though I had left in 2003 on very positive terms. But at least they were by far the most stable agency in my long career. Or until now that had been the case. I found out they had just laid off a dozen or so people! I jokingly told them I was going to send my resume anyway because I had to meet a job search quota in order to continue receiving unemployment checks. That was honestly the only resume I recall sending out during my five months of unemployment because, as I mentioned earlier, jobs tend to find me.
In July, just as I was getting my feet firmly replanted in employment, the media director from the Iowa agency called me. We talked for a bit. He called me a few days later and, much to my surprise, offered me a job! And at a salary level where I could support myself and txrad again. It's not the level of 2007 but it beats was I was making in round #2 at the downtown agency.
I accepted that position and started July 21 -- working from home again. And that guy who offered me the job -- the media director this time around -- is the guy I mentioned back in the LA post who lived in our neighborhood where we bought our first home in the San Fernando Valley, and he worked at the first agency in Santa Monica where my career in advertising first got started.
Crazy, isn't it? I'm not sure if that's just life, or if it's just my life, or if it's just the career I've chosen. But it's fascinating.
In April I was so distraught I honestly thought we might have to sell this house and move. I began using all the funds I had stockpiled in 2007 to renovate. I started with a new roof and new windows since that was critical. Then I had the exterior painted and painted all the interior rooms myself. After becoming employed in July at a livable salary level, I took what was left and spent it on my beloved travertine floors.
Now I love our home as much or more than I ever have and apparently we're not moving anywhere else yet. If and when we do, that will be part 8.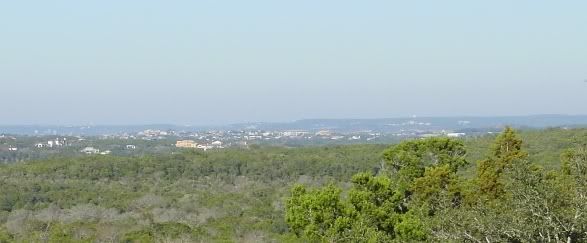 A view to the west -- the towns of Bee Cave and Lakeway -- as seen from the Austin Zoo near our home.