We were shopping yesterday and I was browsing through the dried bean section. We buy too many expensive canned beans of the organic variety, but any canned beans are expensive compared to buying dried beans. And since txrad enjoys preparing beans, I've decided we're going to start buying a lot more dried beans.

I found these Mayocoba beans at HEB. I'd never heard of them and decided to pick up a 2-pound bag which cost only $2.55 which is probably more expensive per pound than pinto beans or black-eyed peas, but I wanted to try something new. And we still got two pounds of beans vs. two small cans. These beans are imported from Peru.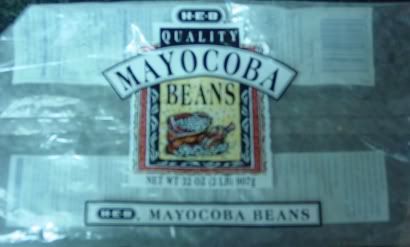 txrad soaked these overnight, then brought them to a boil in the soaking liquid, reduced to a simmer, then added a bay leaf, and simmered for 30 minutes. Then he added 2 ribs of diced celery and simmered another 20 minutes, then he added a teaspoon of dried marjoram and salt to taste and continued simmering under tender. It was basically done shortly after he added the salt & marjoram. He could have added those a bit earlier in the process.
Very tasty nonetheless! Highly recommended. Smooth and creamy.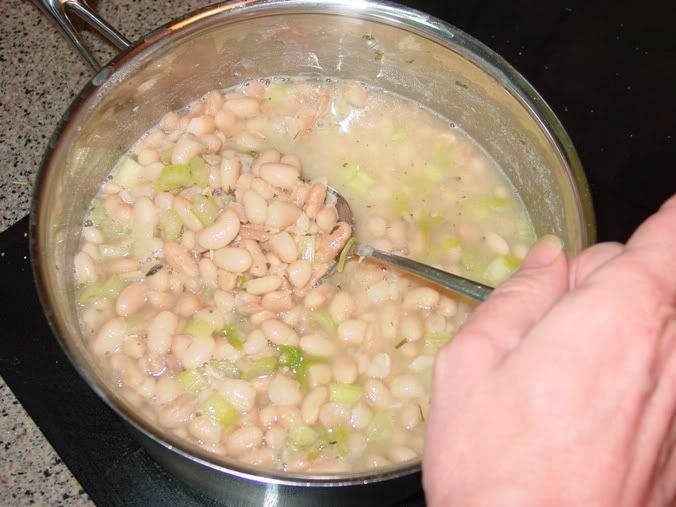 According to the package, these beans can also be cooked Tex-Mex style with several jalapeños and other traditional Mexican spices.
His creation of this dish is most definitely as good as the pinto beans served on the side with our enchiladas at
Guero's Taco Bar
. Later this summer I want him to make this dish and use some of the
epazote
from our yard. Supposedly it's good for killing intestinal worms and is a very authentic flavoring used by American natives, both north and south.