With any luck, this house will look totally different tomorrow from the exterior with a new roof. I'll get plenty of pictures I'm sure.

The guys showed up today with the supplies. It took them awhile to figure out the best place to back the truck close to the house so they could extend this conveyor system from the bed of the truck up to the roof of the house.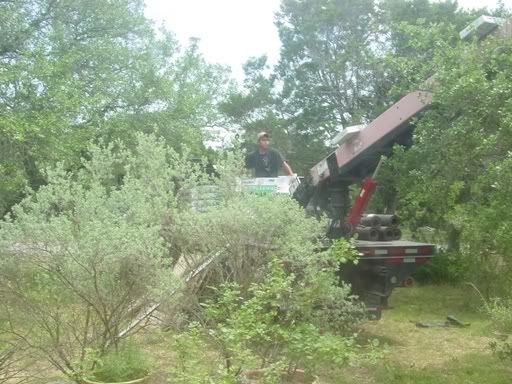 It's a pretty cool innovation. It extends out onto the roof, and has little fin-like things on it to hold the cargo while it's being transported. I took this and the above photo from a dirty kitchen window.
I took the boxed-up skylights around for them to load on the conveyor so they could be placed on the roof for the big workday on Thursday. When they were done, I saw one of the guys who had been on the roof riding the conveyor back down to the truck. I wish I had taken a picture of him. It looked like fun.
So now we have a shitload of roofing materials stacked on our roof in anticipation of the big day. And there's more on the portion of the roof you can't see... lots more.
After they left, txrad wanted to get up on the roof and remove the satellite dish so we could relocate it to a fence post beside the house. It looks a bit like a piece of discarded trash here, but no... it's our ticket to paradise.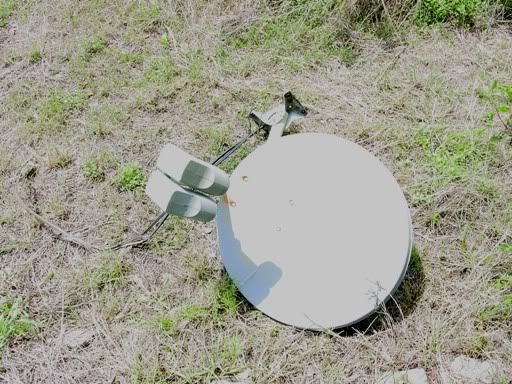 I was a bit nervous about the installation because one of us had to watch the signal meter on the TV while the other made the slight adjustments to the dish to get a signal. We used our dueling mobile phones to communicate which was a perfect solution. txrad had already mapped out what he thought were the correct angles. I expected we were in for at least 45 minutes of hassles but apparently he did his job quite well.
With minor adjustments I saw pretty good signal strength within a matter of seconds. txrad anchored it down and we have satellite tv again.
Just when we thought it was safe to relax and have a little tequila, txrad checked the weather forecast and they are saying there's a chance of drizzle in the morning. After he removed the satellite dish from the roof, there were a couple of big holes which he wanted to cover just in case we do have rain.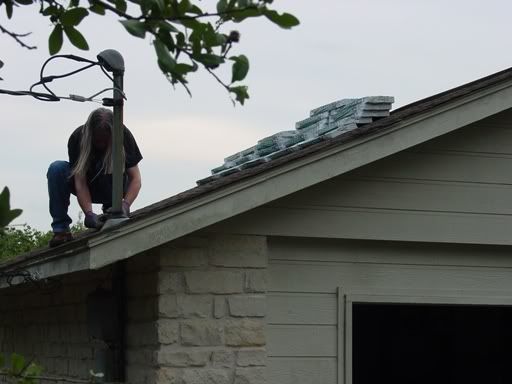 He was dressed appropriately for this manual labor. Yes, the t-shirt is from the Playboy Jazz Festival at the Hollywood Bowl which we attended in 1995... almost 13 years ago. I have a matching shirt. My, how time flies when you're having fun.