A recipe for Nicole.

Konagod's Mac & Cheese

Ingredients:
2 cups milk
2 cups pasta
2 cups shredded cheese
2 tablespoons all-purpose flour
1 teaspoon Dijon mustard
A pinch of smoked paprika
Salt & pepper
----------------------------------------
Whisk together milk and flour until flour is dissolved. Put on medium-low heat until milk begins to steam, whisking frequently to avoid sticking as it warms up.

Once the milk begins to thicken into a sauce, add a teaspoon of Dijon mustard and whisk in. Then remove from heat. And allow to cool a bit while you grate the cheese; otherwise it may not mix well and will separate.

Add in 2 cups of grated cheese. We like to use extra-sharp cheddar but you can do a two- or three-cheese macaroni based on your preferences. Don't assume you have to go for the yellow cheddar either just because the Kraft box mac & cheese is yellow; we're going for superb taste here, not color coordination. (Our cheese we use is white.) Stir cheese into hot milk until saucy. Add the pinch of smoked paprika. This is txrad's addition as it goes well with the extra-sharp cheddar.


For the pasta, we use a variety but the traditional elbow macaroni works best with this recipe -- some of the larger macaroni disrupts the ratio of pasta & cheese and you end up with too much cheese sauce and not enough pasta. You can also use the large macaroni like cavatappi but I would avoid bow-tie pasta. Also not enough squiggly surface area for the cheese sauce to grasp.
Add 2 cups pasta to boiling salted water and cook as directed. Drain when tender. Add pasta into cheese sauce and stir. It helps if your sauce pot is large enough to handle the pasta. Otherwise, put the pasta back into the pot in which it was boiled and pour the cheese sauce over it. Stir well.
Pour mac & cheese into a 1.5L or 6 cup casserole dish and bake at 375F for about 15-20 minutes. Add freshly ground black pepper prior to serving.
We used to do this in a 1-quart casserole dish and there was always a bit too much for the dish. I'd recommend cutting down to 1 3/4 cups of pasta and milk for that size dish.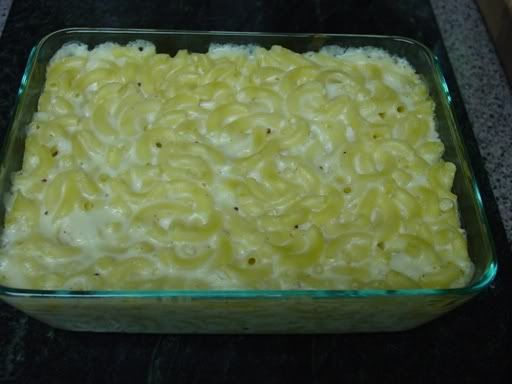 Enjoy! Bon appetit. Kraft never tasted so good.