Now that I'm a working man I no longer have 7 days a week to do home projects. This means I must maximize my weekend time. I didn't exactly maximize anything this morning but this afternoon I spent about 3 hours painting the "short" wall in the den.

I forgot to take a "before" photo but I had this one from last July when the room was water damaged and we had to rip up the carpet.


The painters haven't come back to finish up the odds and ends outside or to paint the taller walls in this room; they are waiting on the replacement windows to arrive and I guess they'll take care of everything all at once.
Meanwhile I took care of the wall which doesn't require their assistance (or the extra tall ladder). Notice the ceiling in the first photo -- far right. The vaulted ceiling at the back of the room tapers down into the threshold area in the kitchen. I thought I'd go ahead and paint that the wall color since it is technically the wall coming to an end. I think it creates an interesting look -- almost an arrow pointing outside.
You'll notice my supervisor in both shots. Also in the above photo the baseboard next to the fireplace on the left had started to rot. I'll have to replace that one I suppose.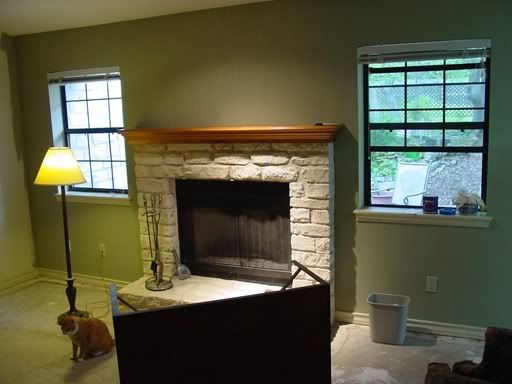 This is already a huge improvement and we don't even have flooring in yet. I really have my heart set on wood floors in this room.